I saw Filmworker at IDFA 2017 and It's pure candy for Kubrick buffs, a real and authentic portrait doc. film about the ass. to Kubrick, Leon Vitali. It reveals to many movie goers the real 'ins and outs' that comes with the filmmaking process. I highly recommend it. The film will be in in cinemas in the UK & on demand 18 May.
Without him, The Shining, Full Metal Jacket, and Eyes Wide Shut would be decidedly lesser movies.
It's a rare person who would give up fame and fortune to toil in obscurity for someone else's creative vision. Yet, that's exactly what Leon Vitali did after his acclaimed performance as 'Lord Bullingdon" in Stanley Kubrick's Barry Lyndon.
The young actor surrendered his thriving career to become Kubrick's loyal right-hand man. For more than two decades, Leon played a crucial role behind-the-scenes helping Kubrick make and maintain his legendary body of work. In Filmworker, Leon's candid, often funny, sometimes shocking experiences in the company of Kubrick are woven together with rich and varied elements including previously unseen photos, videos, letters, notebooks, and memos from Leon's private collection.
Insightful, emotionally charged anecdotes from actors, family, crew members, and key film industry professionals who worked with Kubrick and Leon add an important layer of detail and impact to the story. Filmworker enters the world of Leon Vitali and Stanley Kubrick from a unique perspective that highlights the nitty-gritty of the creative process. By experiencing Leon's journey we come to understand how the mundane gives rise to the magnificent as timeless filmmaking is brought to life at its most practical and profound level.
Filmworker – Official UK Trailer
Director's Statement Tony Zierra
As Kubrick aficionados we were well aware of Leon Vitali: assistant to the director. We admired his great performances in Barry Lyndon and Eyes Wide Shut and we knew he had been a key member of Kubrick's inner circle for many years. When we finally met Leon through our work on another related project, we were struck by his kindness, humility and the fascinating scope of his story. Here was a man who had been a successful actor at a young age, but had given up his high-profile, glamorous life to work tirelessly behind-the-scenes for Kubrick. What compelled him to make such an unusual, self-sacrificing choice? Filmworker explores the bittersweet consequences of Leon's life-changing decision, and the fierce exhilaration of working closely with one of the most brilliant yet demanding artists in cinema history
The Work of Stanley Kubrick
"If it can be written, or thought, it can be filmed." – Stanley Kubrick
With more then 2,822 results for Stanley Kubrick on Vimeo and about 320,000 on youtube, one of the greatest and most influential American directors of all time, still influences young filmmakers and editors around the globe every day.
There are numerous brilliant web video essays and tributes to Stanley, the genius behind films such as Lolita, 2001: A Space Odyssey, A Clockwork Orange, The Shining and my personal Top 5 favorite of all time: Full Metal Jacket. Watch them all below. Headset only.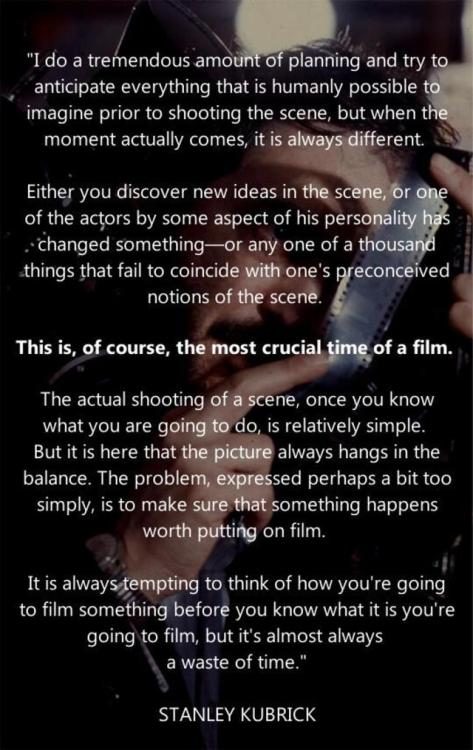 Even though his first and last sentence contradict each other a bit, Kubrick means to say in the last sentence: "stick to a plan" and that "planning only takes you so far, it's preparing to be in the moment that is so crucial." And that's why we all love Kubrick. Kubrick's films are both technically and artistically stunning, while content-wise, he often sought to be controversial.
How Stanley Kubrick Forces Us to Look At Ourselves. Do you see yourself here?
FULL METAL JACKET: Between Good and Evil (30 min.) Directed by Gary Leva
"Watching a Kubrick film is like gazing up at a mountaintop." – Martin Scorsese
Charlie Rose 2001 – Christianne Kubrick, Jan Harlan & Martin Scorsese
For filmmakers like George Lucas and Steven Spielberg, Stanley Kubrick's 2001: A Space Odyssey was life changing, redefining what cinema could be. All films below are all directed by the great film historian Gary Leva;
Stanley Kubrick's immortal status as a master of cinema is accepted to the point in which he's become the subject of college classes—studying patterns in his movies, it seems, can speak volumes about his creative process. We've seen supercuts that gather cinematic techniques including his use of the "one point perspective," but even decisions that other filmmakers might neglect, such as the use of color, received Kubrick's full attention. Case in point: Red: A Kubrick Supercut, put together by Rishi Kaneria. (thecreatorsproject) 
"Since, in the long run, every planetary civilisation will be endangered by impacts from space, every surviving civilisation is obliged to become spacefaring–not because of exploratory or romantic zeal, but for the most practical reason imaginable: staying alive… If our long-term survival is at stake, we have a basic responsibility to our species to venture to other worlds." ― Carl Sagan,
Using only dialogue and images from Stanley Kubrick's films, video essayist somersetVII explores Kubrick's genius use of imagery and language to evoke moods and emotions, rather than strictly focusing on plot and character.
somersetVII other 8 uploaded video's
Concept artist Nick Acosta took a break from his illustration workload to contemplate the stars, and the result is a reality-bending mash-up blending NASA stock footage with Stanley Kubrick's seminal sci-fi masterpiece 2001: A Space Odyssey. (creatorsproject) 
Carefully constructed and choreographed with music from his films, the tribute is a reminder of some of the directors' signature themes and techniques: the bursts of violence evident in A Clockwork Orange, the moments of eerie quiet and internal character struggle in The Shining, the sheer breadth and beauty of landscape and space found in Eyes Wide Shut. (Slate) By Alexandre Gasulla
Alexandre Gasulla other 15 uploaded video's
Stanley Kubrick worked for years as a photographer for Look magazine before transitioning to filmmaking. He famously modeled shots from the period piece Barry Lyndon on 18th-century paintings by artists like William Hogarth. This spectacular edit by Vimeo user kogonada highlights the unusual symmetry of Kubrick's films, and lets us zoom in on the effect of the single-perspective shot. The title of the video "Kubrick: One-Point Perspective," refers to the graphic terminology for a vanishing point that directly faces the viewer. One-point perspective is normally applied to painting and architecture.  Too bad on the score though.
RACCORDS' brilliant Director series, have a look at Stanley Kubrick's 5-part series
WATCH STANLEY KUBRICK- THE FINAL FEATURES [1.1] – [1.5] 
Stanley Kubrick's Boxes is a 2008 documentary film directed by Jon Ronson about the film director Stanley Kubrick. Ronson's intent was not to create a biography of the filmmaker but rather to understand Kubrick by studying the director's vast personal collection of memorabilia related to his feature films.
All other essential documentaries on Stanley Kubrick: