NOTE: Several photos used are taken from behind-the-scenes during production of Ridley Scott's 1979 Alien. Photographed by Bob Penn © Brandywine Productions, Twentieth Century-Fox Productions. Intended for editorial use only. All material for educational and noncommercial purposes only.
Ridley Scott's sci-fi horror about a lethal extraterrestrial predator stalking the crew of a ship flying through deep space, is 40 years old this year. Watch the original trailer.  Rent Alien now on iTunes! 
If it weren't for the calamity of the ill-fated Alexander Jodorowsky's Dune project, in all likelihood the world would not have known one of the greatest horror science fiction classics of all time, at least not in the form we've all become familiar with. Dan O'Bannon wanted to write and shoot a horror movie with aliens ever since he worked with John Carpenter on Dark Star back in his University of South California days. O'Bannon wanted to use a similar premise to Dark Star, but replace the humor with genuine terror. But only after he went to Paris to spend six months working on Dune did his ambition get on the right track. It was in France that he met the Swiss called H. R. Giger, an artist whose work astonished and terrified him at the same time. "I ended up writing a script about a Giger monster," he confessed later. The screenplay, based on a story he wrote with Ronald Shusett, was soon pitched to numerous studios who found it interesting, but the original idea of making a low-budget little thriller fell through because of Star Wars box office success. Science fiction was the hottest merchandise on the market, and joining hands with Brandywine Productions, a company started by Gordon Carroll, David Giler and Walter Hill, O'Bannon's project suddenly became a heavy hitter worth eight million dollars. Due to Brandywine's connections with 20th Century Fox, the future of the film seemed bright, but in order to appease their patrons, a series of rewrites was needed. Giler and Hill added several key plot elements, and after the eight draft made upon O'Bannon's original script, the material was ready to be filmed. Since Hill was too busy to shoot it, directing fell upon the shoulders of a young English filmmaker who made only a single film up to that point. Ridley Scott would helm Alien and its crew into history books.
Read Dan O'Bannon's and Ronald Shusett screenplay for Alien (1979). David Giler and Walter Hill made revisions and additions to the script –  [PDF1, PDF2]
The significance of Alien for the history of film cannot be overstated, for it directly influenced and visually shaped a whole gallery of science fiction movies that were to come upon its release in 1979. The story is relatively simple, the space is confined, the film's power to frighten has been occasionally disputed over the years, written off as a typical, cliché-ridden haunted house flick unnecessarily staged in space. But almost four decades since it came out, Alien is still a fundamentally enjoyable experience to watch. What makes it so effective and so determined to withstand the test of time many similarly-themed efforts inevitably fail when re-watched today is its intelligent execution and groundbreaking visuals. H. R. Giger was responsible for designing everything extra-terrestrial in the film, and his haunting depiction of the eponymous villain in the story was so imaginatively and craftily executed that it's impossible to find a more famous alien image in the whole history of the movies. The creature's head was constructed by the Italian special effects artist Carlo Rambaldi, while concept artists Chris Foss and Ron Cobb did a splendid job designing the interiors and exteriors of the spaceship that carried the unsuspecting crew right into the claws of their demise. The visuals are fascinating, but they alone would not have resulted in a brilliant horror flick had the pacing been any different. Scott deliberately let the story unfold slowly, gradually, respecting Hitchcock's regard for the crucial importance of suspense. It is the waiting that's killing us, it's the feeling of being isolated and helpless that overwhelms us, it's the silence and uneventfulness that bring about the feeling of upcoming horror, it's this patience and restraint that makes the elements of pure terror so damn effective. By keeping the alien hidden from sight through the majority of the picture, Scott allowed the viewers to speculate, guess and project what the antagonistic creature might look like. Because nothing is so powerful a generator of fear as human imagination, and nothing is so terrifying to people as the unknown.
'Alien' Celebrating 40th Anniversary With 6 Short Films #Alien40th
To celebrate Alien's 40th anniversary and in partnership with Tongal, 20th Century Fox is releasing new Alien-universe fan-made short films leading up to Alien Day on April 26th. Written and directed by Chris Reading, the synopsis for "Containment" reads: "Four survivors find themselves stranded aboard a small escape pod in deep space. Trying to piece together the details around the outbreak that led to their ship's destruction, they find themselves unsure to trust whether or not one of them might be infected."
Alien: Containment (2019), written and directed by Chris Reading, premiered at Emerald City Comic Con on March 15th, 2019 and was globally launched on IGN' Youtube on March 30th. At Comic con fans were treated to an exclusive poster celebrating the occasion.
Watch first Episode Now Alien: Containment (2019)! 
When an escape pod detaches from a compromised colony ship, the survivors must determine what happened and if any among them are infected by the mysterious organism. Reading's short emphasizes the growing paranoia of a crew facing a threat that could exist in any one of them. How do you stop something that could already be inside you? What can you do to save a friend whose fate may already be sealed? Sometimes, it's better to not be a survivor.
Next 5 shorts will be released on IGN Youtube on April 5th: "Alien: Specimen," April 12th: "Alien: Night Shift," April 19th: "Alien: Ore," April 26th: "Alien: Harvest" and April 26th: "Alien: Alone."
"It takes an army of dedicated people to make a feature film—and on Alien we had a marvelous army." —Ridley Scott, The Filming of Alien.
Alien (1979) – Chestburster Scene
The Alien chestburster could genuinely be one of cinema's greatest ever scenes if only for the reason that, despite having seen it countless times before, you still never expect what follows. John Hurt's character Kane, having had an unknown creature attached to his face for days, sits down to eat with his fellow Nostromo crew members; all seems well until he begins convulsing in pain. As the crew members try to contain him, a small alien creature bursts through his chest, killing Kane, before escaping into the depths of the ship.
It all started with Scott's desire for genuine reactions of terror. "[They] were going to be the most difficult thing. If an actor is just acting terrified, you can't get the genuine look of raw, animal fear," he mused. Cartwright, who famously passed out when cameras stopped rolling, said: "We read the script. They showed us a mock-up, but they didn't show how it was going to work. They just said, 'Its head will move and it's going to have teeth'.
Ron Shusett (executive producer/ screenwriter): Ridley didn't tell the cast. He said, "They're just going to see it." READ MORE
Lighting a gigantic spaceship with low-ceilinged, four-walled sets and many special effects — plus the vast terrain of an alien planet, called for methods that were out-of-the-ordinary, to say the least – Derek Vanlint
Shot by cinematographer Derek Vanlint (July 04, 2017  – ascmag.com), carried on the restrained notes of composer Jerry Goldsmith, edited by the great Terry Rawlins, who would later work with the director again on Blade Runner, and told by a great set of actors such as Tom Skerritt, Harry Dean Stanton, John Hurt, Ian Holm and, of course, the irresistibly charismatic Sigourney Weaver, the first true action heroine of cinema, Alien is one of the most important films ever made, still as disconcerting and petrifying as it was when it came out.
"So at first I thought I would have Cobb doing that monster—he's quite superb—it just didn't happen to be any of his monsters that I landed upon in my head when I was thinking about the script. When they started to do it the big way, the first guy I started pushing at them to do the monster was Giger. I had a heck of a time trying to get the producers to hire Giger. They really didn't want to get involved because he's not a movie professional, he was some 'whing-ding,' in Zurich. They wanted to find somebody who had done this before, that they could count on. Well, when Ridley came to the project; while Ronnie was rushing up with the original draft of the script I was rushing up with copies of Giger's work. Ridley saw Giger's stuff he was showed. He said 'This is it!" —Dan O'Bannon on Alien. (STARLOG ISSUE 026 – MAGAZINE)
Although Alien is only Ridley Scott's second film, it plants him squarely in the midst of a rare breed of directors. While there is controversy over Alien's, comment and content, the word critics are using most often to describe the film's visual integrity is: splendid. Twenty-odd years ago, Scott was a youngster with an artistic bent-and no clear idea what to do with it. "I went to the Royal College of Art in London," he says, "but at that time their film department consisted of a steel wardrobe with a Bolex camera in it and an instruction book. No classes whatsoever." (STARLOG ISSUSE 023 – MAGAZINE) 
Fresh from his work on The Warriors (1979), producer Walter Hill discusses his role in the making of Alien.
Storyboards for Alien drawn by Ridley Scott, with his handwritten notes, show how the director visualized the first encounter with the extraterrestrial monster.
Courtesy of DGA Quarterly.
Ridley Scott Demystifies the Art of Storyboarding (and How to Jumpstart Your Creative Project)
In the video below, a laid-back Scott, cigar in hand, discusses how storyboards, sketches, and other pieces of hand-drawn imagery help him make movies. Telling how he's found locations, envisioned scenes within them, and used drawings to build those scenes, Scott offers an insight into the look and feel of his own work and useful advice to fellow creators, whether or not they work in a visual medium. His inspiration begins with an activity as simple—but nonetheless a source of "great enjoyment"—as looking at industrial landscapes out the window of a car. Sometimes he even begins thumbnail sketches then and there, in transit. Not only does his drafting background enable him to do that, but it leads to closer working relationships with his professional storyboard artists. Conferring with them mentally prepares him to "hit the floor" and shoot the scene. He reveals that, whether you're directing a $120 million motion picture, painting a painting, or even writing a blog post, you face the same challenge: "Get rid of the white canvas. Get something right across the canvas. Otherwise you're always looking at that area of white, which is like a blank sheet." He notes that his methods have led to some calling his films "overdesigned and over-thought out," but admits that, at this point, "I'll probably just stay with the plan." —Ridley Scott Demystifies the Art of Storyboarding
TERRY RAWLINGS' 'ALIEN' EDITING SCRIPT
Thanks to the wonderful effort of Dennis Lowe, as well as the Alien Experience website, we're able to check out legendary film editor Terry Rawlings' Alien editing script, which contains a lot of material that was either cut from the film, or never shot in the first place, scanned in its entire 240 pages of invaluable historic testimony. You can download the PDF document here (NOTE: For educational and research purposes only).
Rawlings' rich resume includes work on Blade Runner, Chariots of Fire and both Scott's and Fincher's installments in the Alien series.
Terry Rawlings and Ray Merrin Q&A at Studio Solent
Terry Rawlings and Sound Mixer Ray Merrin (The Shining, Trainspotting) join students from Solent University to share their experiences working with directors such as Ridley Scott, Stanley Kubrick, Danny Boyle, David Fincher and many more.
Ridley Scott, H.R. Giger, Sigourney Weaver, Tom Skerritt in 23-minute interview on ALIEN (1979)
A gem from 1979, Carolyn Jackson interviews Ridley Scott about his film, Alien. The discussion ranges over a variety of topics including Scott's move from directing commercials to feature films, his decision to both direct and act in the film, and choices that affected the film's MPAA rating ("If you start reducing those elements, then you start watering down the film.") He also talks about the special effects used in the film, explaining the process of rotoscoping. Footage is awful for the first few seconds.
*** Please note, at times video quality is poor due to deterioration of the original tape. ***
THE BEAST WITHIN: THE MAKING OF 'ALIEN'
This made-for-DVD documentary treats horror and science fiction film fans to a behind-the-scenes look at the making of Alien, the terrifying classic about a spaceship crew trapped with a hideous monster that's hunting them one by one. Features interviews with director Ridley Scott and master designer H.R. Giger, as well as with star Sigourney Weaver and other members of the cast and crew, who share their experiences from working on the project and discuss the special efforts that went into bringing it all together.
Making of classic sci-fi film Alien starring Sigourney Weaver, directed by Ridley Scott. (ALL 2 PARTS ONLINE) 
ALIEN VAULT
The new book Alien Vault gives you a terrific insight into the insane amount of craftsmanship—and the craftsmanlike touches of insanity—that went into Ridley Scott's Alien. Ian Nathan's new book is a ridiculously comprehensive and beautifully assembled tribute to one of science fiction's all-time great movies. And nowhere is it more impressive than in delving into the creative process of H.R. Giger. — How H.R. Giger's Brilliant Madness Helped Make Alien "Erotic"
ALIEN DIARIES
HR Giger worked in the Shepperton Studios near London from February to November 1978, creating the figures and sets for the film Alien (1979) directed by Ridley Scott. The film became an international success, earning Giger an Oscar. In the transcribed Alien Diaries, published here for the first time as a facsimile, HR Giger describes his work in the studios. He writes, sketches, and takes photographs with his Polaroid SX70. With brutal honesty, sarcasm and occasional despair, Giger describes what it is like working for the film industry and how he struggles against all odds—be it the stinginess of producers or the sluggishness of his staff—to see his designs become reality. The Alien Diaries (in German transcription with an English translation) show a little-known personal side of the artist HR Giger and offer an unusual, detailed glimpse into the making of a movie classic through the eyes of a Swiss artist. The book contains almost completely unpublished material, including drawings, Polaroids showing the monster coming to life, and several still shots from the plentiful film material that Giger took in Shepperton.
GIGER'S 'ALIEN'  – Featuring behind-the-scenes on Ridley Scott's Alien with H.R. Giger
Giger's Alien is the rare documentary on the artist H. R. Giger that was directed by J. J. Wittmer and H. R. Giger himself. It was filmed in 1975-78 and had a very limited release overseas on VHS and LaserDisc. You are taken inside his studio to watch him create one of his famous pieces, carving a mountain of clay into the famous Alien from the movie of the same name. You will also see him designing the Alien Eggs and the Derelict ship and interior use in the movie, as well as rare deleted scenes from the movie itself.
Starlog Magazine issue 26: 'H. R. Giger: Behind the Alien Forms.'
Cinefex – The Movie Special Effects Magazine
Here's a PDF of the out-of-print NUMBER 1 edition of Cinefex from March 1980. It includes comprehensive coverage of of Star Trek: The Motion Picture and Alien, both which came out in 1979. It's mind-blowing! The entire Cinefex catalog is an indispensable resource that every filmmaker can use to learn from and revisit the memorable special effects movies of the past, present and give you ideas for the future. Courtesy of Vashi Nedomansky.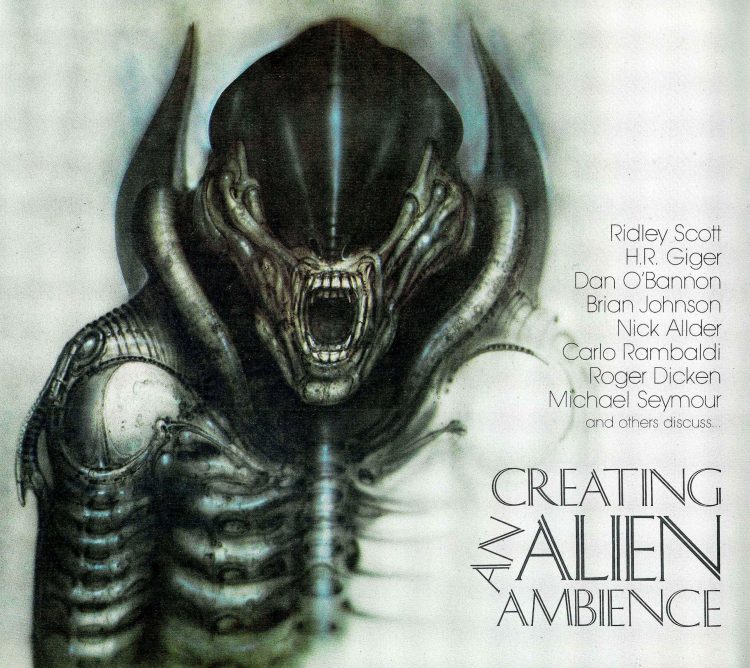 Photographed by Bob Penn © Brandywine Productions, Twentieth Century-Fox Productions.
Photographed by Bob Penn © Brandywine Productions, Twentieth Century-Fox Productions.
"Whoever you are, I have always depended on the kindness of strangers." —Blanche DuBois, A Streetcar Named Desire
Article by Cinephilia & Beyond
Cinephilia & Beyond is a website completely dedicated to the art and craft of filmmaking. By shedding light on the process of creating films that are now considered classic examples of highly accomplished filmmaking, we offer education, insight and analysis aimed to please and inspire both experienced, well-informed film lovers and young filmmakers and students on the start of their professional journey. The website is run by two editors who dedicate a lot of their time to producing material C&B's audience might enjoy absorbing.
If you find Cinephilia & Beyond useful and inspiring, please consider making a small donation We're witnessing the disappearance of some of the best film-related websites in the world: The Dissolve, Movie Mezzanine, Keyframe, FilmStruck, Fandor… Are we the next in line?
Cinephilia & Beyond is an independent, non-profit website without any financial support from funds or sponsors. We're completely dependent on the donations made by our faithful readers, so please consider supporting us with however small donations to give us a helping hand in keeping film culture alive for future generations.
"Come on, folks. Send $. I have for years and sent more just now. There is no publication like this. Not anywhere. Focused on craft. Focused on Art. Not Box Office or gossip, just films. Pure. That is worth $20+ a month. We cannot lose Cinephilia and Filmstruck in the same year." —James Mangold
More Ridley Scott' Cinephilia & Beyond, Films and Filmmaking Articles
Ridley Scott's 'The Duellists': A Startling Debut of Honour
Ridley Scott's 'Blade Runner': A Game-Changing Science-Fiction Classic
Blade Runner Souvenir Magazine: A Fascinating Blast from the Past from the Heart of Ridley Scott's Masterpiece