Impeccably filmed by the BBC as always, meet South Korea. The nation that charts the varied landscapes that the southern part of the peninsula has to offer and the myriad different species which have made their homes in its coastlines, forests, mountains and plains – from raccoon dogs and dolphins to cicadas and hawks.
South Korea boasts a spectacular natural landscape, 64 per cent of which is covered in forest.
Once a mountain kingdom of ancient palaces and emperors, Korea in the 21st century is largely known for its modern cities and decades of conflict. Tensions between North and South may be what defines it to outsiders but beyond the battle scars there is another side to Korea. In the south are large pockets of untouched wilderness where extraordinary animals flourish and Koreans continue to practice age-old traditions in tandem with the seasons and with nature. It is in these connections, rather than in division, that we see the true Korea.
A pod of bottlenose dolphins share the ocean around the volcanic islands of Jeju with the Haenyeo or 'Sea Women'.
At the southernmost tip of the peninsular we follow a pod of bottlenose dolphins through the volcanic islands of Jeju. They click at each other as they encounter a human in their midst, but the dolphins know this diver well – they have shared the ocean with the Haenyeo, or sea women, for thousands of years. We travel onwards to the isolated island of Marado, where three generations of sea women are preparing for a dive. Today is the start of the conch season, and they work hard whatever the weather to maximise their catch.
South Korea has an impressive 12 World Heritage sites
In the grounds of an ancient palace on the mainland, a raccoon dog family takes advantage of a rare event. Just once every five years, hundreds of cicadas emerge from below ground providing an easy feast for the raccoon dogs who voraciously fill their bellies. Those that escape their jaws make for the safety of the trees, where they metamorphosise into their flying form.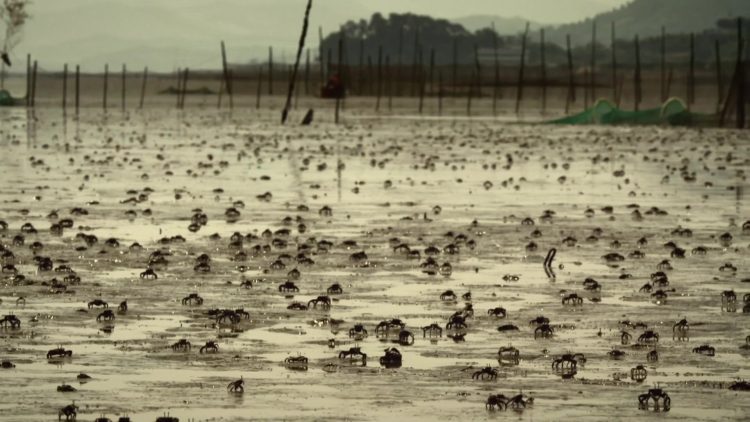 On the mud flats of Suncheon Bay we find a habitat that is neither land nor sea. Only recently has the ecological value of mudflats been recognised. A staggering 50 per cent of the earth's oxygen is produced by phytoplankton – microscopic algae that are found here in great abundance. That is why the mudflats are known locally as the lungs of the earth. Plankton is far from the only life here – the mud of the bay is rich in nutrients and supports one of the most diverse ecosystems on the peninsula. We follow the story of a young mudskipper who has emerged for his first mating season. His journey to find love is paved with obstacles.
Terra Mater Factual Studios (TMFS) and Oxford Scientific Films (OSF) have joined forces to coproduce Wild Korea, a landmark series in association with Buzz, CJ E&M and the BBC
 The Hidden Nature of Korea – BBC (2018) (1080p) (narration Arthur Lee)