A three-part BBC Two documentary series 'The Iraq War' –  the big players themselves try to answer the question why they made so many mistakes in Iraq…
Insurgents of the Iraq War explain in BBC's The Iraq War doc. how they struggled with big decisions, and with each other. How could they be so wrong about Saddam's weapons of mass destruction just before the invasion? How have the United States and allies in Iraq changed from from occupants to liberators so quickly?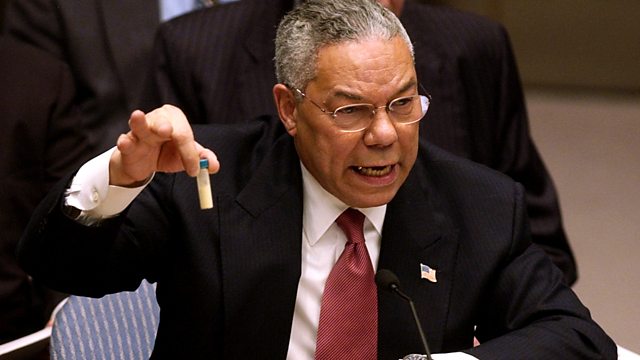 In 2003, American politician and businessman, George W. Bush's secretary of defence and the principal architect of the Iraq War, Donald Rumsfeld (THE UNKNOWN KNOWN), estimated that the war with Iraq would cost around $60 billion. Five years later, the cost of Iraq war operations is over 10 times that figure – The Three-Trillion-Dollar War: Its Cost In Ten Steps / Tax Dollars at War / The War on Error
"Yes, there have been many programs about Iraq. But not by our method. … No one has just tried to present the story straight — or had managed to get the principals from all sides together to present … a genuinely multi sided picture." -Norma Percy, Series Producer – America vs. Iraq
When President Bush addressed the UN in September 2002, his language about Iraq was uncompromising. Top Iraqi officials tell how they responded, allowing weapons inspectors back.
More
A Tough Message – CLIP
Disbanding the army – CLIP
Regime Change
The first part of this 3-part series shows how the directors of the United States and England became convinced that Saddam Hussein owned WMDs (weapons of mass destruction). CIA headers and Saddam's Foreign Minister describe how it might be that they were so wrong.
Tony Blair tells how he flew to Camp David to enter the discussion with Dick Cheney (US Deputy Prime Minister), Colin Powell (US General) explaining how he came to his disastrous presentation at the UN and the British Secretary of State Jack Straw explains how he – and even President Bush – tried to make Tony Blair clear that the invasion of Iraq was political suicide.
Dutch broadcasting organisation VPRO aired all 3 Parts. Watch them in Full below.
Original BBC – dailymotion Part 1, Part 2 and Part 3. 
Documentary series 'The Iraq War' is a British production by Norma Percy, her 12th documentary, (Iran and the West / Putin, Russia and the West/ Inside Obama's White House), Brian Lapping and Paul Mitchell in collaboration with Brook Lapping Productions.
Norma Percy is an American-born, award-winning documentary film maker and producer. The documentaries produced in collaboration with Brian Lapping have covered many of the crises of the 20th Century. In 2010 she was awarded the Orwell Prize Special Prize for Lifetime Achievement. 
A comprehensive look at the Bush Administration's conduct of the Iraq war and its occupation of the country.
Also Recommend: Academy award winning Director Charles Ferguson (Inside Job – Final 20 minutes) – Ferguson made a film in 2007 called "No End in Sight".  The Documentary (culled 200 hrs. of Iraq footage) provides you with a comprehensive look at George W. Bush' Administration's conduct of the Iraq war, which happened on false pretences as we all know now (operation curveball), and its occupation of the country, which was a true debacle. But how and why did America's leaders decide to invade Iraq? How did they formulate a strategy that went so far wrong?
"There were 500 ways to do it wrong, and two or three ways to do it right" – Barbara Bodine.
A lot things went wrong (lack of armered Humvees) (private contractors, cause of lack of troops in beginning) (Aegis Defense Services) (looting Baghdad, Iraq) (UN Nations HQ bombed – Sergio)  – which in return led to a lot of unrest, not only in Iraq, but it's complete region.
No End in Sight (2007) by Charles Ferguson – (Trailer) (Full Film)